The Hawaii Group, Truly.
Mainland agencies, faceless offshore firms, inattentive and overprices local'pros'—they all fall flat when put up against our transparent, customized approach. We believe passionately that honesty and integrity go a long, long way, especially in a place like Hawaii where you don't have a long way to go!
More Than Just A Pretty Picture
Authenticity courses through the veins of our organization; from our people to our pricing to the logos you see above, The Hawaii Group lives and breathes an uncommon pairing of forthright communication and aloha. Agile, adaptable and dynamic, like the islands we call home, our companies and our logos embody the flexibility and elegance with which we strive to serve every Hawaii business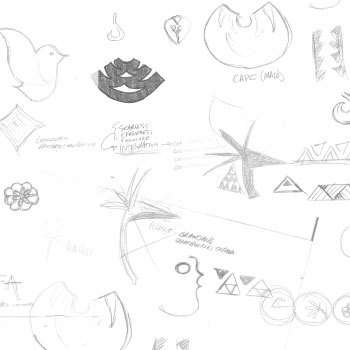 Origins
When forming the first Hawaii Group company, Hawaii Human Resources (HiHR) in 2009, founders Matt Delaney and Scott Meichtry knew they needed an extensible and impactful identity — an aesthetic steeped in Hawaiian heritage but at the same time respectful and devoid of common cliches.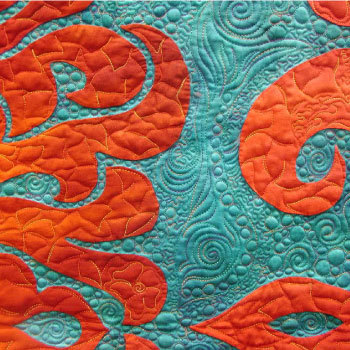 The Original
Looking for visual cues beyond the passe rainbow or wave, this identity needed to convey an authenticity that leveraged Hawaii's heritage with reverence. Bringing elements of Polynesian heritage to the American quilt, 19th-century Hawaiian women created a distinctive and beautiful art form that is still actively practiced.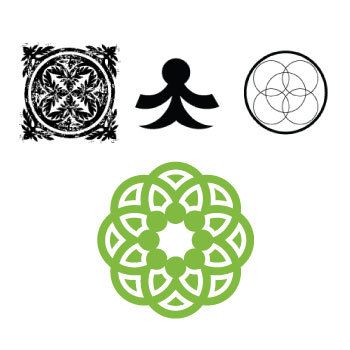 The First Step
Decidedly Hawaiian, this fusion of style and construction is unique the world over. Speaking to themes of communication, family, commerce and spirituality, these quilts endure as vital and accurate depictions of Hawaiian culture and modern society. In the same way, The Hawaii Group identity celebrates the vitality and community-driven principles of our companies.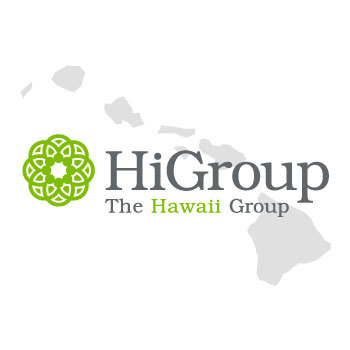 The Hawaii Group
An obvious floral form, the Hawaii Group logo is a homage to the Hawaii state flower, the Hibiscus. Additionally, the mark has eight abstracted flower petals, eight human forms — one for each of the eight primary Hawaiian islands. Through and through, The Hawaii Group is Hawaii!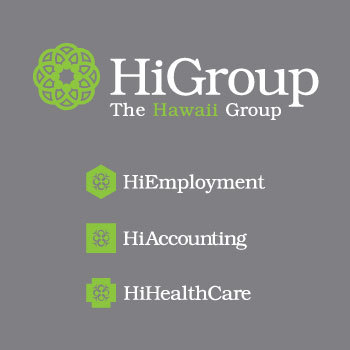 Our Ohana
HiAccounting, HiEmployment and HiHealthCare, each company, decidedly unique, but with a consistency and reliability that our clients, current and future, have come to know and trust.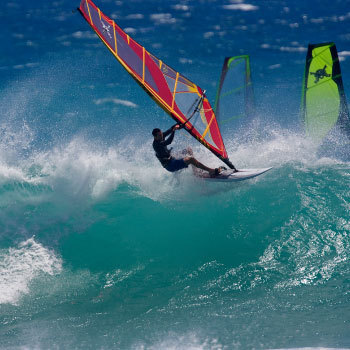 Our Home
In addition to our logos, we've used only Hawaii-specific imagery in all of our company collateral. From ads to websites to office artwork, we celebrate the lifestyles and personalities of our clients, friends and families.
The Hawaii Group Timeline

January 2009
HiHR opens for business. Operated out of Matt's home before moving to Imperial Plaza at 725 Kapiolani Blvd.

July 2009
HiAccounting launched on July 2, 2009 as an integrated HR and Accounting solution.

February 2010
The Hawaii Group concept emerges as idea - creates holding group for family of companies.

July 2010
POI Employment acquired on April 4, 2010 – launched as HiEmployment on July 4, 2010.
July 2012
The Hawaii Group acquires Island Nurses on July 26, 2012.

August 2016
ProService Hawaii purchases HiHR. As we bid farewell to HiHR, HiGroup remains dedicated to providing Hawaii's best recruiting, staffing, accounting & nursing services.

December 2018
California Accounting launched on December 5, 2018.

January 2019
The Hawaii Group acquires Cradles n' Crayons.
January 2019
The Hawaii Group acquires Einhorn & Company CPAs.

January 2020
The Hawaii Group acquires Boyd & Associates PC
Get In Touch
We would be pleased to get in touch to discuss your needs.
Locations
Oahu ( Headquarters )
Bishop Tower
700 Bishop St. Suite 600
Honolulu, Hi 96813
Phone 808.529.9990
Kauai
2970 Kele Street
Suite 213
Lihue, HI 96766
Phone 808.482.3901
Maui
24 N Church Street
Wailuku, HI 96793
Phone 808.356.4357

Hilo
145 Keawe St
Hilo, HI 96720